Back to BlueNews
Sheet Pan Lemon-Roasted Fish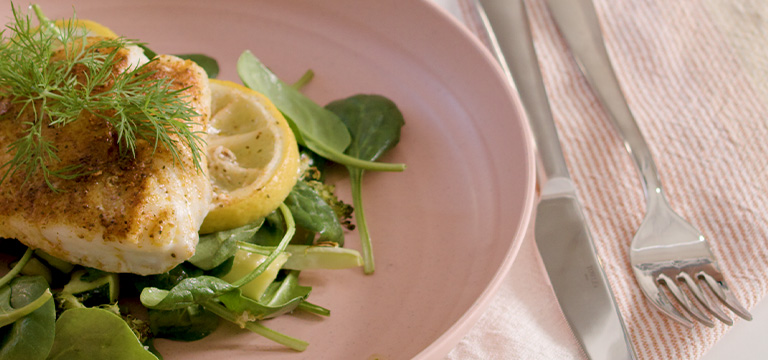 There's a lot to love about cooking, especially the satisfaction of getting to eat what you make. But the cleanup afterward? Not so much. That doesn't mean you should write off cooking altogether, though.
You can cook without causing a big mess—one way to do that is by baking with sheet pans. Depending on what you're cooking, you can roast multiple things on one sheet pan rather than using multiple pots and pans.
That's exactly what happens in this lemon-roasted fish recipe. Everything is cooked on just one sheet pan. Not only is this recipe easy, it's also super healthy too. Fish is one of the healthiest foods you can eat with its high protein, essential vitamins, minerals and omega-3 fatty acids, which are essential for your body and brain function.
Sheet Pan Lemon-Roasted Fish
Cook time: 15 minutes
Ingredients:
3 fish filets (e.g. cod, flounder, salmon)

2 tsp. extra virgin olive oil

1 lemon

1 tsp. seafood seasoning

½ tsp. salt

2 cups broccoli

1 zucchini

3 cups baby spinach

3 dill sprigs
Instructions:
1. Preheat oven to 400°.
2. Line a sheet pan with parchment paper. Wash lemon, slice evenly and lay slices close together on the sheet pan.
3. Rub fish filets with olive oil and place over lemon slices. Sprinkle with spices and salt.
4. Wash broccoli and cut into small florets. Wash zucchini and dice. Add vegetables to the sheet pan next to the fish in a single layer. Toss with olive oil, salt and pepper.
5. Bake 12-15 mins until fish is cooked through and vegetables are lightly cooked. Remove from oven.
6. Stir spinach leaves into vegetable mix using tongs. Garnish with dill. Serve.
Source:
https://www.botanicalkitchen.com/
https://www.healthline.com/nutrition/11-health-benefits-of-fish
Published on: April 07, 2022