Back to BlueNews
Delicata Squash with Cranberry Stuffing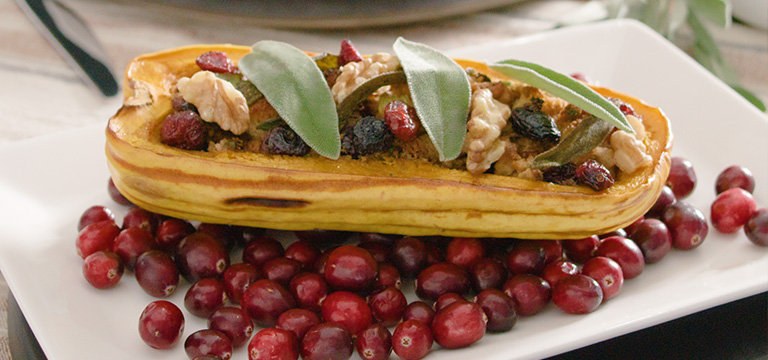 Some people look forward to Thanksgiving all year. It's easy to see why: it's all about friends and family gathering over delicious foods. While you might have to wait until then to gather with all your loved ones, you certainly don't have to wait that long to eat Thanksgiving foods.
In fact, cooking some Thanksgiving foods ahead of time lets you try new recipes to bring—especially ones that help curb food comas. This recipe combines two classics into one that's sure to be a hit: roasted delicata squash with cranberry stuffing.
When it comes to 'healthy' and 'delicious,' squash can't be beat. It has a low glycemic index, making it great for those with high blood sugar. Squash also contains pectin, which is an important nutrient that improves your body's ability to manage insulin and blood sugar levels. Also, some studies show that eating squash may even reduce your risk of heart disease and stroke.
Delicata Squash with Cranberry Stuffing
Ingredients:
2 delicata squashes

1½ cups bread cubes

½ cup celery, diced

½ cup leeks, diced

3 tbsp. walnuts, chopped

3 tbsp. dried cranberries

3 tbsp. parsley, chopped

1 cup chicken or vegetable broth

2 tsp. olive oil

2 tsp. poultry seasoning

1 tsp. salt and pepper

12 sage leaves, plus more for garnish
Instructions:
1. Preheat oven to 375°F. Line a sheet pan with parchment paper.
2. Cut both squash in half lengthwise. Scoop out seeds and place squash on a sheet pan or dish so they fit snug and stay upright.
3. In a bowl, add all the dry ingredients except sage leaves. Mix well.
4. Heat broth and add to the bowl along with olive oil. Stir well until bread cubes have softened and broth has been absorbed.
5. Divide mixture. Stuff the squashes, spreading stuffing evenly and pressing down lightly with a spoon. Place 3 sage leaves over each squash.
6. Roast stuffed squash 30-40 mins until squash is tender and golden. Serve with fresh sage leaves and cranberry sauce.
Source:
https://www.botanicalkitchen.com/
https://www.organicfacts.net/health-benefits/fruit/squash.html
Published on: April 21, 2022