Back to BlueNews
Herb-Marinated Grilled Chicken Thighs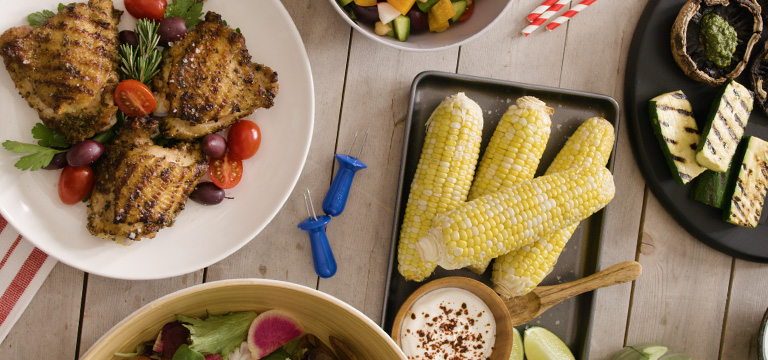 Vinegar is a chef's secret weapon. The acidity of vinegar can brighten up the flavor of just about any dish and take them to the next level. For meats, it even helps keep them tender and juicy.
This recipe gets a lot of its flavor from balsamic vinegar, a kind of vinegar that's produced from grape pulp and stored in wooden barrels for years. While you likely know its acidic taste, did you also know it offers a lot of health benefits?
Balsamic vinegar contains antioxidants that block substances which raise your body's cholesterol levels and it contains probiotics that can regulate your appetite. It also may limit blood sugar spike, which is helpful especially for those with diabetes. Try this at your next cookout!
Herb-Marinated Grilled Chicken Thighs
Cook time: 20 minutes
Ingredients:
4 skin-on chicken thighs, boneless

4 tbsp. balsamic vinegar

1 tbsp. extra virgin olive oil

1-2 tbsp. mixed herbs (e.g. rosemary, thyme, sage, parsley), finely chopped

2 tsp. dry oregano

1 tsp. garlic

1 tsp. salt + pepper

1 cup olives
Instructions:
1. Heat grill until medium-hot. Using tongs, place marinated chicken skin side down and grill. Close lid.
2. Cook 10-15 minutes each side until chicken is cooked.
3. Remove chicken from grill and rest on a plate for 10 minutes. Cover with an upside-down plate on top.
4. Slice the chicken thighs diagonally. Add all the resting juices and top with olives and fresh herbs. Serve.
Source:
https://www.botanicalkitchen.com/
https://www.medicinenet.com/what_is_a_good_balsamic_vinegar/article.htm#health_benefits_of_balsamic_vinegar
Published on: April 21, 2022