Back to BlueNews
Summer Chickpea Salad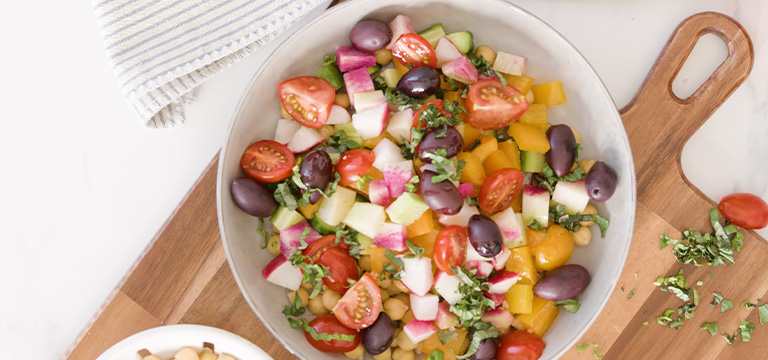 Who said salads must have a leafy green base? Add some variety to your salad routine by trying out this recipe, which has chickpeas as the main ingredient.
Chickpeas, or garbanzo beans, are a staple of Mediterranean cuisine. What makes them so essential is they're packed with protein, fiber, potassium, and other important nutrients. They're naturally low in saturated fat and sodium as well as cholesterol-free.
It can make for a filling, vegetarian alternative if you're looking to cut down your meat intake. Plus, eating chickpeas may even help lower blood pressure, blood sugar and cholesterol.
Whether you're bored of the same salad or want to add more chickpeas to your diet, you can enjoy this summer salad year-round!
Summer Chickpea Salad
Ingredients:
1 can chickpeas, 15 oz.

1-2 bell pepper

1 radish

2 cucumbers

2 cups cherry tomatoes, cut in half

1 cup kalamata olives

4-6 tbsp. honey mustard dressing, oil-free orange vinaigrette or

Lemon Garlic Tahini
Instructions:
1. Wash vegetables. Halve cherry tomatoes and dice bell pepper, radish and cucumbers.
2. Add dressing.
3. Mix all ingredients in a large bowl. Serve with mixed greens.
Source:
https://www.botanicalkitchen.com/
https://nutritionfacts.org/topics/chickpeas/
Published on: April 21, 2022